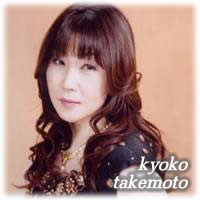 Takemoto Kyoko
Graduated from the Department of Piano, Faculty of Music, Tokyo University of the Arts, and completed the same graduate school. She completed the piano performance at the Graduate School of Music, Tokyo University of the Arts. She studied under Yutaka Yamagami, Yasuko Tani, Aiko Tokugawa, Max Egger, Louis Hill and Brown, and Tatiana Nikolaieva. She studied composition under the late Hiroshi Kawashima. She studied DTM under Takuya Nishiyama.
Her performance activities include solo recitals, chamber music, and co-starring with orchestras, and she is active both in Japan and abroad with a wide repertoire from classical to contemporary music premiere. Nagoya Philharmonic Orchestra, Central Aichi, Vienna Musik Feline String Quartet, Darmstadt Ensemble, Israel String Quartet, Rostov Symphony Orchestra, Saito Kinen Orchestra Members, Vienna Virtuoso, Prague Broadcasting Symphony Orchestra, NHK Symphony Orchestra He has performed with members of the group, the Warsaw String Quartet, and others. She has won the Nagoya City Arts Festival Award, the Aichi Education and Culture Arts Award, the Krasnodar International Music Festival Arts Award, the Nagoya City Arts Encouragement Award, the Aichi Prefecture Arts and Culture Awards Culture Award, and the Nagoya Pen Club Critique Award. She has also won the Best Leader Award at the Japan Classic Competition, the Pitina Piano Competition, the Kawai Music Competition, and the European International Piano Competition in Japan Chopin International Piano Competition in ASIA for her younger coaching. ..
Her CD featured her solo 1992 Musorgsky's "Pictures of the Exhibition", Liszt's "Reading Dante", and in 2007, Schumann's fantasy and Chopin's masterpieces. Released piano solo "Fantasy". In 2022, he released "Full of Love" and "Hanasho", which are collections of songs used in research on the positive effects of music on the mind and body. His piano quintet released "Brams' Piano Quintet" with the Israeli String Quartet in 1991, and "Dvorak's Piano Quintet" with Warsaw String Quartet and Schumann in September 2012. In the piano trio, Beethoven's piano trio "Ghost" and "Daiko" at the "Kirara Trio" in collaboration with Israel Phil Concertmaster Egaltune and Chief Cellist Sascha Kagonovsky in 1993, and in August 2011, Yasushi Toyoshima and Fujimori. Released "Sorrowful Trio" by Ryoichi and Rahmaninoff. In the duo, Schumann and Weber's "Grand Duo" with Ernst Ottenzamer, the 2004 Vienna Philharmonic Principal Clarinet player, was released by Octavia Records and gained popularity. Also, in collaboration with NHK Symphony Orchestra chief cello player Ryoichi Fujimori, 2008 ", Chopin's Piano and Cello Works All Songs", 2009 "Passonato" "Rahmaninoff and Piasora Works" CD, and 2010 Released "Brams's Cello Sonata Collection". In the concerto, Mozart's "Piano Concerto Kv.467 in C major" with his Romanian orchestra is highly evaluated.
In 1995, he published a book on "Music Image Playing" from "Doremi Score", which developed and established a playing method called "Image Playing" that specializes in human minds and emotions. It is an audiovisual fusion playing method that allows the performer to more clearly sympathize with his or her own image by studying the inner side of music and incorporating the performer's past experiences, memories, thoughts, languages, and colors. Also, in June 2013, "Music Notomosha" published a commentary on "Kyoko Takemoto's image playing method for those who learn piano", which was developed as his teaching method. Draw an "expression curve" to create a three-dimensional space derived from the image in order to work on the theory and practice of image playing, which guides the playing style by imagining the inner side of music with colors and stories, and to disseminate it in the educational field. Published Tato Workbook from "Music Notomosha". She presides over the "Kyoko Takemoto Music Image Study Group" and holds public lectures and lecture concerts in various places.
In addition, we will also focus on charity concerts in the wake of the earthquake, and take this opportunity to connect people's hearts with music, realize that it causes resilience, and scientifically clarify that music leads humans to happiness. Therefore, regarding the influence of music by "image playing method" on the mind and body, we obtained the discretionary expenses of the president of Aichi University of Education and the subsidy for scientific research of the Japan Society for the Promotion of Science, project number 1 8 k 0 0 2 0 6, 2017-2022. Collaborate with medical and psychological researchers to conduct biochemical and psychological research. She gained scientific evidence that music is good for the body and mind, and presented it at academic conferences and papers. She focuses on lectures, performances, CDs, and distribution about the power of music that leads to "music can make people happy."
In the field of education, she is also focusing on inclusive education of active learning using ICT of audiovisual fusion by "image playing method" so that music can develop resilience that is resistant to stress. 
She is currently an emeritus professor at Aichi University of Education. She is a visiting professor at Nagoya University of Music. She is a part-time lecturer at Kinjo Gakuin University and Mie Prefectural Nursing University. She is a standing member of the Chopin International Piano Competition in Asia. She is a jury member of the Osaka International Competition, the Performer Competition, the Japan Classic Competition, the European International Competition, and the Arun Competition National Convention. Nagoya Youth Piano Competition Executive Committee. Midori Music Festival Music Director. Kyoko Takemoto, presided over by the Music Image Study Group.
https://www.takemotokyoko.com/
Kyoko Takemoto --My Portal --researchmap